Jane Lesley, a Psychotherapist and university lecturer had been living and working in the States for 35 years. As she approached her retirement, she made the decision to return to the UK and moved into a character filled flat on Woodbine Road in Gosforth in September 2016.
The flat was absolutely perfect. It was just around the corner from her sister and close to the buzz of the local shops, restaurants and amenities in Gosforth. Then Jane found something else she'd been waiting for: a dog. Her puppy, George, changed everything – as pets often do, and Jane wanted a garden for George to run around in, and long walks nearby so she started to look for a bungalow in a more rural setting.
Jane said, "I began to search for our new home and found the perfect place in Dinnington. I met Amie from Sarah Mains during the viewing. I thought she was outstanding and very knowledgeable about the housing market and I thought that her pricing was elegant – and obviously well researched. Based upon her valuation of the property I put in an offer and Wendy in the Newcastle branch helped to get accepted.
"I wasn't going to sell my flat straight away, but I was so impressed with Amie, I invited her to come along to carry out a valuation. Again, her pricing strategy was right and she really understood the charm of my home and who would be interested in it. She guided me through the selling and buying process and took all of the stress away. I didn't have to do a thing and there was such a great natural continuity of service between Amie and Wendy back in the office. The state-of-the-art movie tour was amazing and there was excellent attention to the launch onto the market.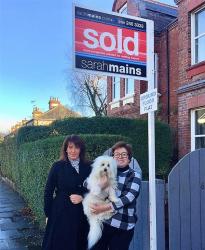 "I've been a business woman myself and owned my own therapy practice for twenty years so I know when people are talented and reliable. The staff at Sarah Mains are professional and nice at the same time. It was the whole package from start to finish and the block bookings made selling very easy. The process has been as sleek as the real estate service you find in Boston or New York but with a caring North East attitude.
"Wendy even put me in touch with someone from Sarah Main's Property Management company who helped me to make sure the outside of the flat was ready for viewings. I didn't feel like I was a small cog in a big machine and Amie made me feel important throughout. I genuinely felt like everyone in Sarah Mains wanted to help me.
"After the first block booking I accepted a cash offer from an overseas buyer and it was sold in a day. Susan, the Manager from the Newcastle branch is keeping me up-to-date so I don't feel like I have to keep ringing solicitors to find out what is happening. Everyone knows what is going on and I can contact any of the team on their direct lines which makes a huge difference.
"Sarah Mains is obviously a very smart business woman because she hires very smart people. I'm delighted to have one of her 'Sold' signs outside my house because doing business with Sarah proves that I'm pretty smart too! When I used to fly backwards and forwards across 'the Pond' I travelled business class but on frequent flyer miles. That's what Sarah Mains has been: great service that doesn't cost the earth. I highly recommend them to anyone."